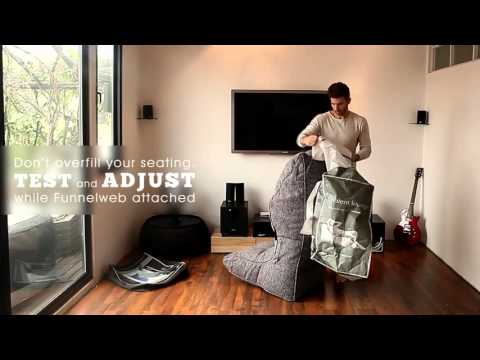 Ambient Lounge Acoustic Sofa - Lime Citrus
Unique Zip & Tip funnel system: fill your beanbag yourself to your ideal seating comfort!

This designer indoor bean bag offers the perfect combination of style, comfort and functionality. Its light weight makes it easy to move. Yet this luxurious beanbag is also very sturdy. It is made of heavy duty, durable yet soft fabrics approved for intensive use in public areas such as cafes, hotels and cinemas. Ambient Lounge Acoustic Sofa is also equipped with an innovative Ambi-Spring Internal Elastic system and a thick, quilted inner lining. As a result, premier eps pearl filling stays nicely in place. This beanbag retains its beautiful and sturdy shape and you will enjoy unparalleled seating comfort for years to come. This designer beanbag is available in countless trendy colors.

Properties
Material: 100% polyester
Weight cover: 610 grams
Dimensions: 80 x 80 x 80cm (Length x Width x Depth)
Zippers: 2x Safety Locking YKK
Filling: premium

EPS pearls Zip & Tip funnel web system
The filling is divided into two compartments for an extra firm seat. This is easy to adjust to your personal wishes. Take out some filling or add some with the handy Zip & Tip Funnelweb system. Gently push the filling into place and make sure they are evenly spread.

Maintenance and tips
This beanbag is made of the best materials and equipped with high-quality filling. Within the first 3 to 6 months, it may lose a little bit of volume. Therefore, save excess filling, so that you can refill it if necessary. Shake the beanbag regularly. That way it stays beautiful for longer.

In the unlikely event that a wire comes loose, do not pull it, but cut it off. Be careful with sharp objects such as buckles, toys or keys. Avoid direct sunlight on the materials to prevent discoloration and keep the beanbag at least 50 centimeters away from your heater.

Small stains can be removed with a damp cloth or high-quality textile cleaner. You can protect the cover extra against dirt with a special textile protector. The covers are also machine washable or hand washable at low temperatures. First remove all filling with the handy Funnelweb system. After washing, let the cover dry on the line and then add the filling again.

About Ambient Lounge
The story of this top brand started in Melbourne, Australia. In 1998, founder and designer Grant decided it was high time for stylish, sophisticated and soft furnishings that were both comfortable and functional. Inspired by the relaxed and contemporary atmosphere of the city's popular cafes, Grant and his designers decided to breathe new life into casual beanbags. They wanted to create designer beanbags that could bring style and comfort all over the world, in all kinds of spaces. They set to work to create the ultimate bean bag and came up with all kinds of innovative systems to achieve the highest quality.

In 2004, the brand launched its first beanbags with the Funnelweb Zip & Tip system, which allows for easy filling and adjustment. The advanced Ambi-Spring Internal Elastic System also takes these beanbags to a higher level. These retain their beautiful shape and high seating comfort much longer than the average bean bag. The double quilted lining provides extra softness, warmth and strength. The beautiful covers exude class and are available in countless trendy shades. These innovative beanbags are an international craze and brighten up countless cafes, hotels, cinemas and designer clubs worldwide. Provide your interior with such a soft beanbag in your favorite color. From now on you can enjoy deep conversations, cups of coffee, inspiring books and exciting series even more with your Ambient Lounge Acoustic Sofa.
Kleur
Geel
Groen
Ambient Lounge Acoustic Sofa - Lime Citrus
Gratis

bezorging in Nederland & België

30 dagen

bedenktijd
Gemakkelijk

achteraf betalen

met Klarna

Gecertificeerd

Thuiswinkel Waarborg lid
De enige Officiële Ambient Lounge reseller


De Ambient Lounge Acoustic Sofa - Lime Citrus past goed bij de onderstaande producten